Information Session for Spring Short Program Conducted
Information Session (1st and 2nd) for Spring Short Program which is scheduled in February 2024 has been conducted. The third session will be conducted on November 9th (Thursday).
【Information Session】
・1st session: 12:20~13:00, Wednesday, November 1st, Y-14
・2nd session:12:20~13:00, Tuesday, November 7th, A2-12, Onsite+Online
・3rd session:12:20~13:00, Thursday, November 9th, Y-11, Onsite+Online
Over 30 students participated in the first two sessions and showed their great interest for joining program. Through free conversation with professors and staff, they deepened their understanding for each program as well.
Only one session is pending so far, but if you have any questions about the program, please feel free to contact International Office.
Details of the program are available from the link below:
Spring Short Program: https://a3i.yamanashi.ac.jp/event/1469/
Inquiry:
International Office (B1-225)
E-mail: a3i-as@yamanashi.ac.jp
TEL: 055-220-8703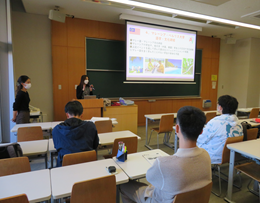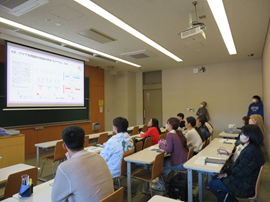 Information Session                                                        Information Session